Spring Concert Series - May 19, 20 & 21, 2017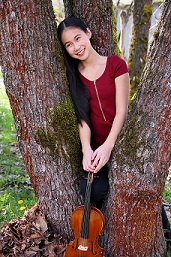 Concert Season Funding
Arthur R. Dubs Foundation
Carpenter Foundation

Carrico Family Foundation

City of Ashland (Ashland lodging tax revenues)

Collins Foundation

Dunlap Silsby Family Foundation

James F. & Marion L. Miller Foundation

Oregon Arts Commission
(a state agency funded by the State of Oregon)

Pacific Power Foundation

Roger G. Hewitt Fund for YSSO of The Oregon Community Foundation

& The Friends of the YSSO
Performances:
Friday, May 19, 7:30 p.m.
Oregon Center for the Arts Music Recital Hall at SOU, Ashland

Saturday, May 20, 7:30 p.m.
Performing Arts Center, Grants Pass

Sunday, May 21, 3:00 p.m.
Craterian Theater at the Collier Center, Medford

Spring Concert Series Poster (.jpg)
Program
:
Youth Symphony

Heitor Villa-Lobos, Bachianas Brasileiras No. 4

Franz von Suppe, Poet & Peasant Overture

Henryk Wieniawski, Violin Concerto in D minor, mvt. 3
Lindan Burns, violin soloist

Youth Orchestra

John Williams, Star Wars Main Theme & The Force Awakens

Ralph Ford, Uptown Hoedown

Andrew Lloyd-Webber (arr. Custer), Phantom of the Opera Selections

The Spring Concert Series performances will open with the Youth Symphony playing Franz von Suppé's (1819-1895) Poet & Peasant Overture. Lindan Burns, Youth Symphony Concertmaster and winner of the 2017 Concerto Competition, will play the third movement (Allegro con fuoco-Allegro moderato) of the Violin Concerto No. 2 in D minor by Henryk Wieniawski (1835-1880) with the Youth Symphony.  This concerto is perhaps the composer's finest work. It premiered in 1862 with the composer as soloist and Anton Rubenstein conducting. The work is a tour de force.

The Youth Symphony also will play Bachianas Brasileiras No. 4 by Brazilian composer Heitor Villa-Lobos (1887-1959). Villa-Lobos composed nine Bachianas for an assortment of ensembles in the period from 1930 to 1945. Each work connects Brazilian culture with the musical forms of the Baroque era. Bachianas Brasileiras No. 4 originally was composed as a piano solo and then later orchestrated. The work is a suite with four movements. The first movement, Prelúdio, references J.S. Bach's "Royal Theme" in his Musical Offering. The second movement, Coral (Canto do Sertão, "Song of the Jungle") features the one-note call of the bare-throated bellbird. The third movement, Cantiga, is an intermezzo and the finale, Danza, includes quotations from the Brazilian folk dance, "Tiny Steps."
The Youth Orchestra will play arrangements of music from John Williams' scores for the Star Wars and The Force Awakens films, and Uptown Hoedown by Ralph Ford.

The concerts will conclude with a joint Youth Symphony-Youth Orchestra performance of selections from Phantom of the Opera by Andrew Lloyd Webber.
Both orchestras are led by Music Director & Conductor Dr. Cynthia Hutton. 

***

Lindan Burns, violin soloist

Lindan Burns has participated in the Youth Symphony of Southern Oregon (YSSO) since 2009-2010. As a homeschooled student from grades six through nine, involvement in the YSSO offered her opportunities to work with a conductor and play with accomplished young musicians. A lover of chamber music, Lindan has enjoyed playing in the Chamber Music Series each season. Most recently, Lindan played in two piano trios and a mixed ensemble with Youth Symphony colleagues Morgan Byers, Javier Mitchell Vargas, Michael Dugan, Paul Schaafsma, Camille Schaafsma, Chris Bock, Anthony Bock and siblings, Alex and Julie Burns.  Lindan also plays in the Rogue Valley Symphony (RVS) and the RVS Chamber Players.

In 2015, Lindan placed 3rd in the State Solo Competition.  Also in 2015, she placed 2nd in the Junior Division of the American String Teachers Association (ASTA) National Solo Competition. In 2016 she studied with Helen Callus through the Colburn School of Music's pre-college program. She has participated in Suzuki Camps, the  Foulger International Music Festival, the Young Artist's Program in Ottawa, the Castleman Quartet Program and the Perlman Music Program.  Lindan has participated in masterclasses and worked with Samuel Rhodes, Lawrence Dutton, Brett Deubner and Steven Tenebom.  Lindan began playing violin at age 2½. Her teacher was Linda Reams. Though she enjoys playing violin in orchestra, her primary instrument is viola. Lindan's viola and bow were loaned to her by the Maestro Foundation.