Winter Concert Series - February 17, 18 & 19, 2017
Winter Concert Series Partner
Dunlap Silsby Family Foundation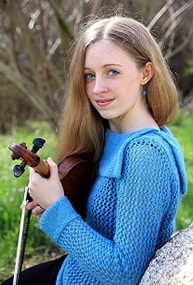 Lily Dunlap
2016 Concerto Competition Winner

Concert Season Funding
Arthur R. Dubs Foundation
Carpenter Foundation

Carrico Family Foundation

City of Ashland (Ashland lodging tax revenues)

Collins Foundation

Dunlap Silsby Family Foundation

James F. & Marion L. Miller Foundation

Oregon Arts Commission
(a state agency funded by the State of Oregon)

Pacific Power Foundation

Roger G. Hewitt Fund for YSSO of The Oregon Community Foundation

& The Friends of the YSSO

Performances:

Friday, February 17, 7:30 p.m.
Performing Arts Center, Grants Pass High School
Saturday, February 18, 7:30 p.m.
Craterian Theater at the Collier Center, Medford
Sunday, February 19, 3:00 p.m.
Oregon Center for the Arts Music Recital Hall at SOU, Ashland

Winter Concert Series Poster (.jpg)

Ticket information

Program:
Youth Symphony
Amy Beach, Symphony in E minor, op. 32 ("Gaelic" Symphony), mvts. I & IV
I. Allegro con fuoco
IV. Allegro di molto

W.A. Mozart, Violin Concerto No. 4 in D Major
I. Allegro
II. Andante cantabile
III. Rondeau (Andante grazioso - Allegro ma non troppo)

Lily Dunlap, violin soloist
Youth Orchestra
Grant Hull, Contrasts for Orchestra
I. Andante
II. Giocondo
III. Pensieroso
IV. Presto

Soon Hee Newbold, Warrior Legacy

Johannes Brahms, First Symphony, mvt. IV (Leidig)


Lily Dunlap, violin soloist
2016 Concerto Competition Winner

Lily Dunlap, Assistant Concertmaster of the Youth Symphony and a winner of the 2016 Concerto Competition, has participated in the YSSO since 2012. An Ashland High School (AHS) sophomore and home-schooled student, her current music teacher at AHS is Lauren Trolley. Her previous music teacher at AHS was Gerry Paré. She studies privately with Scott Cole. A multi-instrumentalist, Lily has also studied violin with Morgan O'Shaughnessey and Virginia Wickham, flute with Lisa Nichols, and piano with Michele Alspach. In addition to the YSSO, Lily plays in the Rogue Valley Symphony and AHS Chamber Orchestra. She has also participated in numerous festivals and institutes including the Marrowstone Music Festival in Bellingham (WA), Lamont School of Music Summer Academy in Denver (CO), Ashland Chamber Music Workshop at SOU, and the East-West Virtuosi String Quartet Institute, among others. Lily has participated in masterclasses led by James Ehnes, the Dover Quartet, Morgenstern Piano Trio, Adam LaMotte, John McGrosso of the Ariana String Quartet and Dr. Margaret Gries.

When asked who provided her with inspiration, Lily shared, "Rachel Barton-Pine was my main inspiration in starting the violin. I read an article about her when I was seven years old and it was then that I decided to play violin. Hilary Hahn and the Dover Quartet have also been huge inspirations to me. Playing with [former Youth Symphony Concertmaster] Chloe Brown for four years was a great learning experience and an inspiration for me to keep improving." Following graduation, she plans to continue violin study, perform and perhaps become a teacher. Lily wishes to offer heartfelt thanks to her mom and dad for their support and for driving her to and from rehearsals, her Great Aunt Lois for her violin, Grandma Nadine for providing strings and bow hairs, private music teachers Virginia Wickham, Morgan O'Shaughnessey and Scott Cole for their guidance and help, and orchestra directors Gerry Paré, Lauren Trolley and Cindy Hutton for welcoming her into their ensembles.